January 2018
---
refering to AVANTGARDE MUSIC...
ABIGORs new album is now available on Spotify, iTunes and our own Bandcampsite:
iTunes link:
www.apple.co/2E1QQeF
Bandcamp link:
avantgardemusic.bandcamp.com
For those who are waiting for something "more physical",
keep an eye open here and in the store.
In the next days we will present all products covering the Höllenzwang release, including a special extra release for vinyl maniacs, the album t-shirt, and of course the album itself on cd and lp formats.

www.facebook.com/avantgardemusiclabel

These are the first previews for the LP and CD, to be accompanied by a T-shirt in good old screen print quality. We travel further back in time and fulfill nostalgic 1980s moods with a shape picture disc to decorate one´s cave, featuring the non-album songs "Black Icarus" and "Metamorphosis".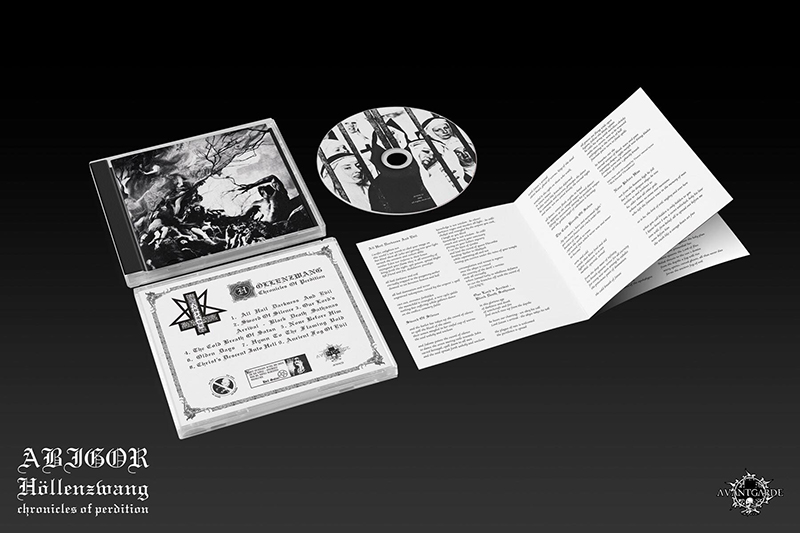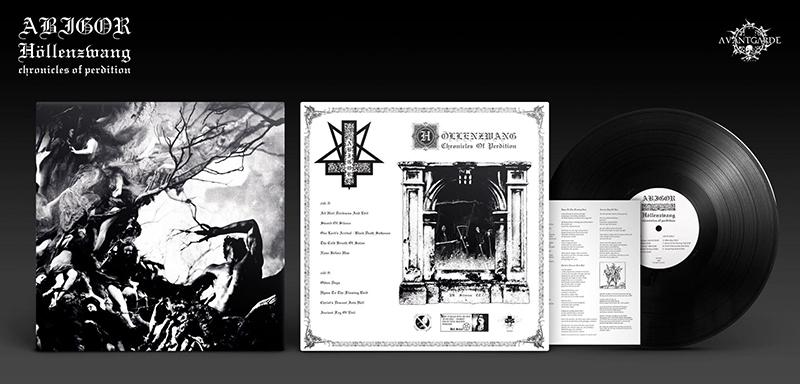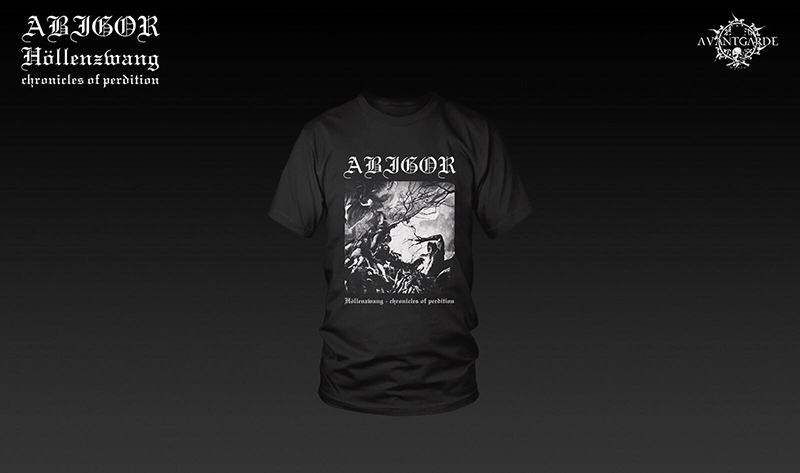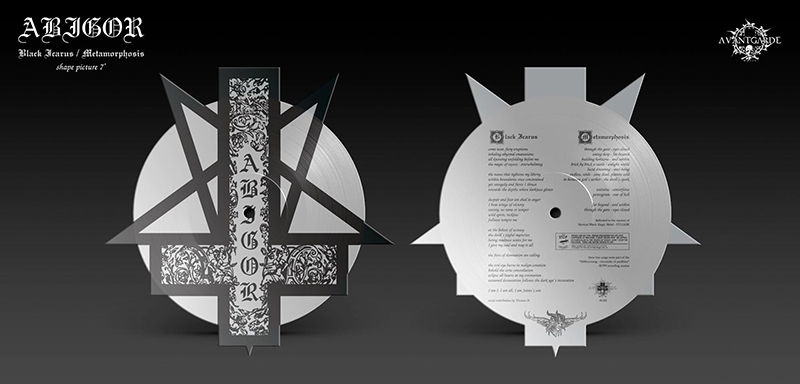 November 2017
---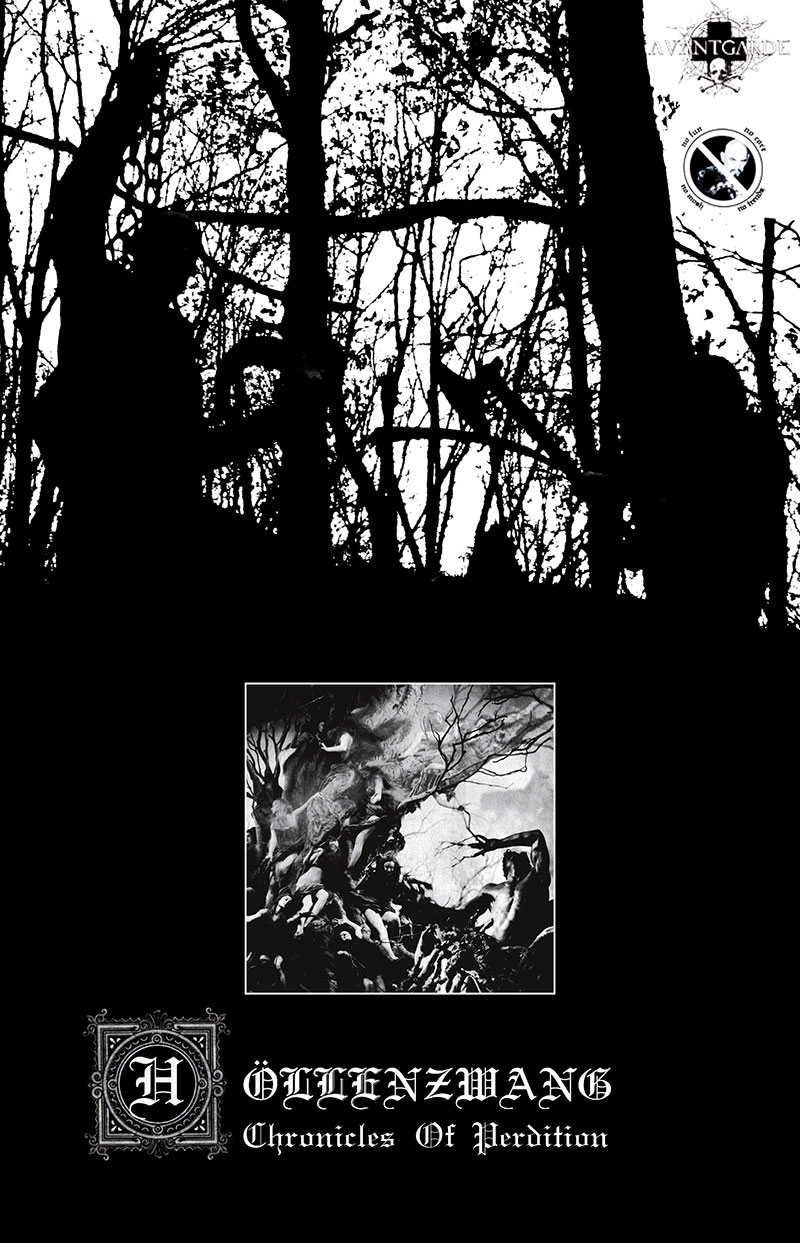 Höllenzwang - chronicles of perdition

is now being sent off to the pressing plant. True to our continuing refusal of commercial marketing, there won´t be any fancy youtube video, tons of merch or other promotion campaigns. This is the first glimpse of what you could expect on the forthcoming album - condensed to 36 minutes of pure aural evil.
The only noteworthy information to pass on is the underlying musical / technical concept of the album: there is no - not one single - additional guitar track recorded. No additional melody, no solo, no doubletracks. Instrumentally, we limited ourselves to record a rather natural and direct album consisting of 2 guitars, a bass and "blastbeat" free drums. To remember the original idea of early 90s Black Metal which always meant both - TRADITION and at the same time INNOVATION. The past is alive, the black flame burns bright - all hail darkness and evil!
https://luzifer.bandcamp.com/track/songpreviews-of-h-llenzwang

July 2017
---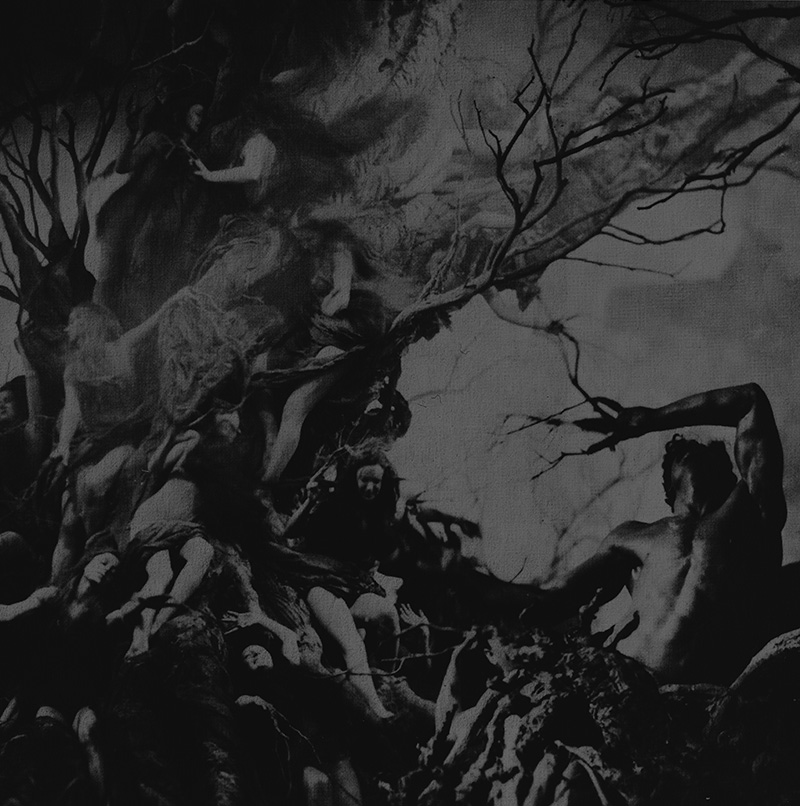 New Abigor album almost finished!

Black Metal may still be excellent, and the pool of "occult" or post-DSO bands is huge. But where´s the pounding greatness of Natten´s Madrigal, Apokalypsens Ängel, Det Som Engang Var or the Strid 7" today?
Not that we would or could fill this gap, but in Abigor´s very own stubborn way and with the old-school execution of mentioned masterpieces, our new album was recorded without a single "blastbeat", without multi-guitar madness or downtuned disharmonic riffing.
String wise, minimalism was the law - only one guitar left, one guitar right, and a bass in the middle. Not one single additional guitar-track to add soli, melodies or double-tracks.
Lyrically, all hokuspokus and theological pondering was avoided. It´s not an album of a seeker, or about one´s initiation, or to lecture, but about the Devil and the Devil only! An impulsive work stripped down to the very basics that maybe could have been released in the 1990s.

This technical restriction as well as a focus on the the evil force that sparked Black Metal ablaze at the beginning of the 90s also torched our work again.

Silenius is soon starting to record the vocals, and you can expect the new Abigor LP and CD after the summer makes way for the autumn´s gloom.

Here´s the first 3 - maybe not too representative, more soon to come - instrumental extracts (PLAY AT LOUD VOLUME!) to an album that will feature the following songs:

1. All Hail Darkness And Evil
2. Sword Of Silence
3. Black Icarus
4. The Cold Breath Of Satan
5. Our Lord´s Arrival - Black Death Sathanas
6. None Before Him
7. Olden Days
8. Hymn To The Flaming Void
9. Christ´s Descent Into Hell
10. Ancient Fog Of Evil
11. Metamorphosis

www.soundcloud.com/abigor-2/abigor-new-album-instr-sample-july-2017

March 2017
---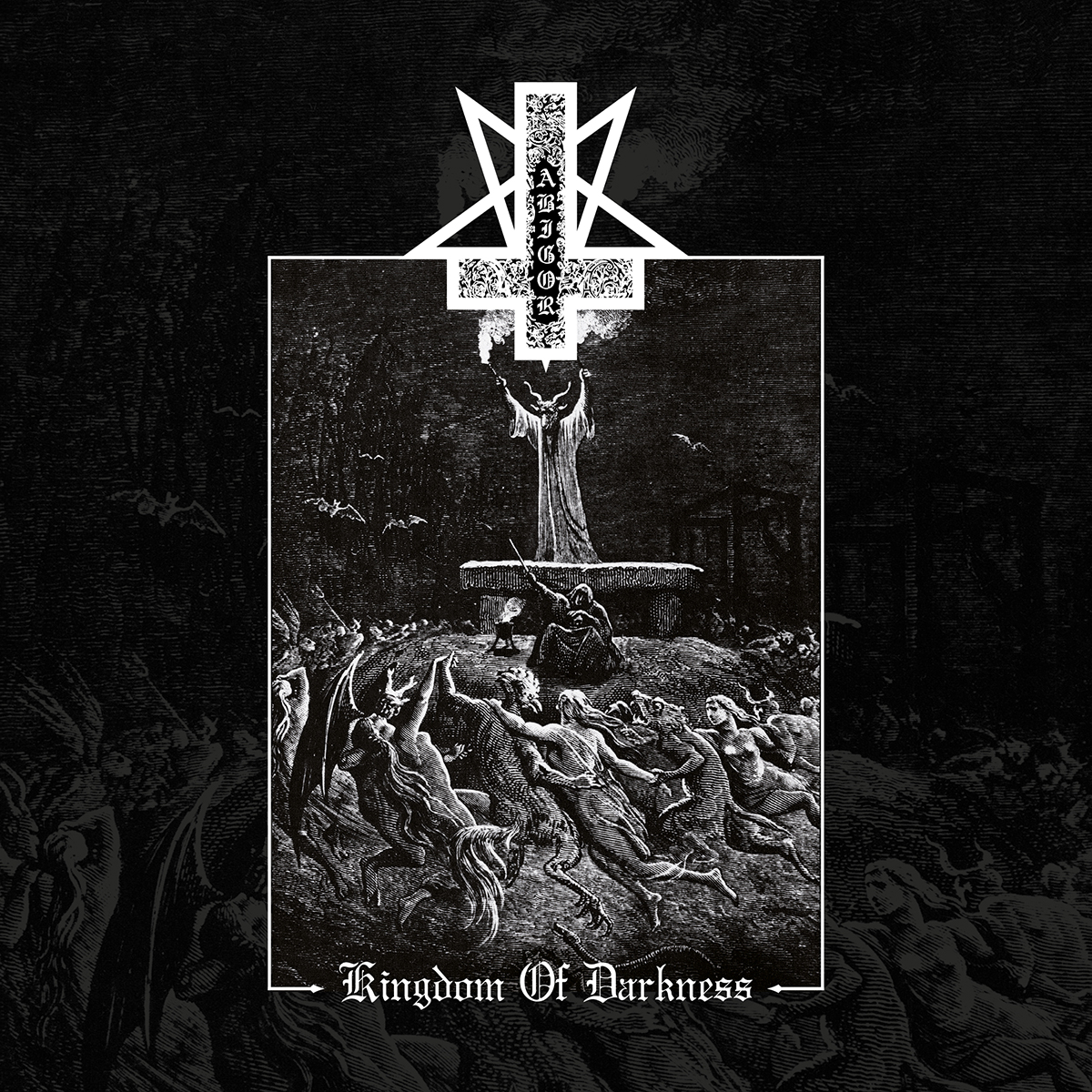 Kingdom Of Darkness 7" / 2016

Kingdom Of Darkness - The first step into the dark age… Created in late 1993, the first monolithic statement of ABIGOR. Kingdom Of Darkness is probably the most important ABIGOR song.
Re-recorded for the American print of Imhotep #11 in 2016.
Sharpened, and intensified in performance but at all cost far from "modernising" this old hymn or presenting a half-hearted "self-cover-version".

Severance – from Orkblut 1994
Celestial – from Apokalpyse 1996
Eerie Constellation – From Opus IV 1995
Recorded on a 4track back these days in the old rehearsal cellar.
This witnesses how things were in the ancient days, pure devotion…

Finaly available through Bandcamp …
http://luzifer.bandcamp.com/album/kingdom-of-darkness-7-2016

January 2017
---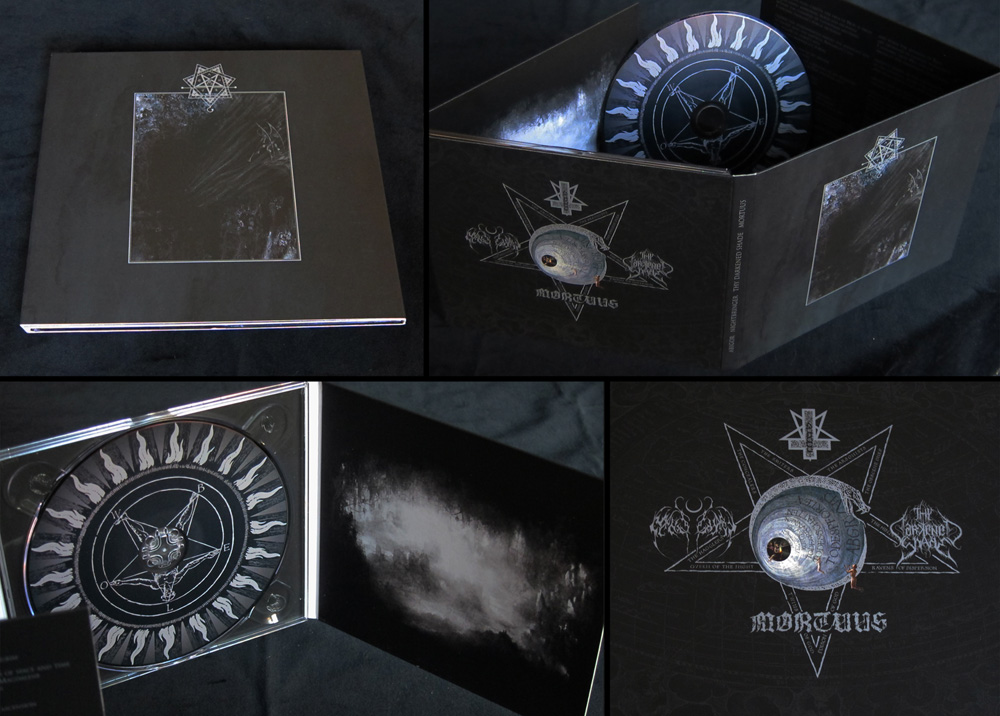 ABIGOR NIGHTBRINGER THY DARKENED SHADE MORTUUS
ANTM01 CD / LP to be released by the end of january 2017
While we wait for the vinyl to be pressed within the coming weeks, the CD version has already been delivered to us.
This is an all independent self-released project by the involved bands, we urge all online shops and mailorders to inquire only at our exclusive distributors:
AVANTGARDE and W.T.C. in europe
AJNA and DARK DESCENT in america
Like in the old days, we made a simultaneous LP and CD release possible. Due to the self-release nature of this album, there is a first pressing run, and a second run will follow, but obviously it won´t be available forever and won´t circulate in major-label number of copies.
Black Metal from and for the underground, in the true sense of the word, since this journey leads to the uttermost regions BELOW.
A N T M
www.avantgardemusic.com
www.w-t-c.org
www.theajnaoffensive.com
www.darkdescentrecords.com
September 2016
---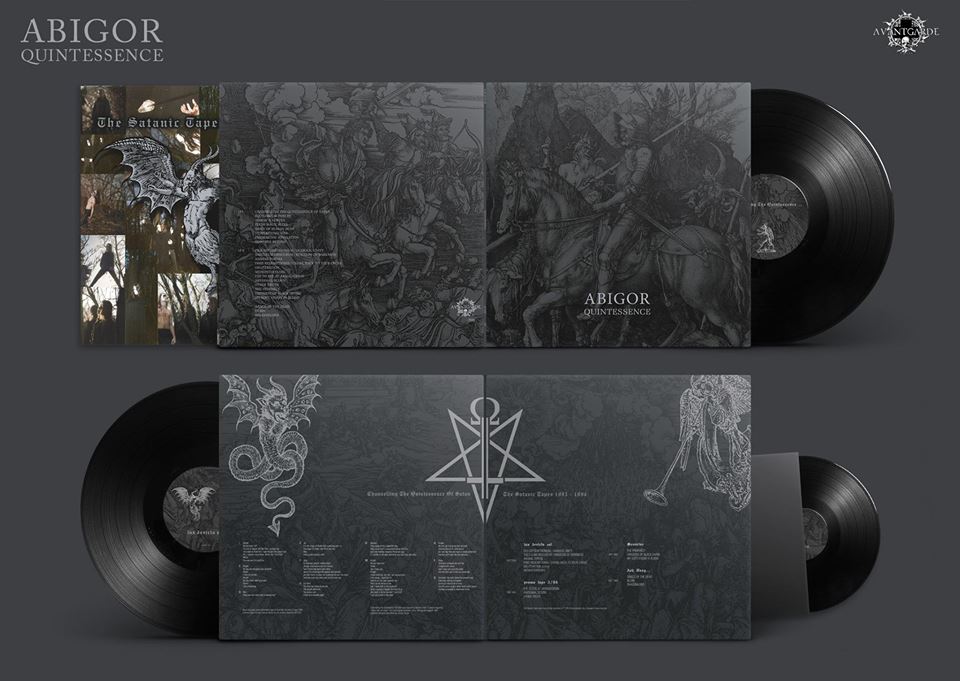 March 2016
---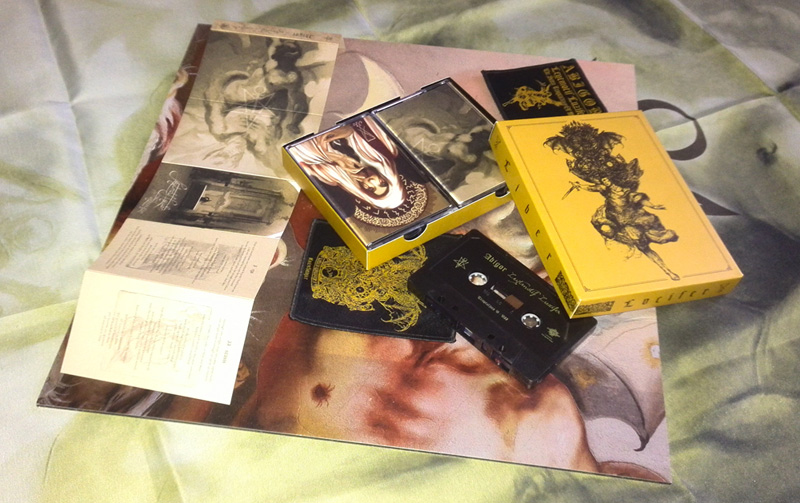 "the next thousand years are ours"...
… but let us focus on 2016 for now. We made clear that we try to avoid contributing to the oversaturated "market" and will not flood the mailorders with merchandise and re-releases. Yet there are a few things planned for this year, some ideas and projects are in our vaults for a while but now the time is right.
1. Leytmotif Luzifer on tape
AVANTGARDE kindly licensed this album to W.T.C. who have released a line of great quality cassettes in the past. And after a few obstacles we had to overcome, as usual when you demand a certain quality level, now it´s ready to be shipped. Watch the WTC store the coming week:
http://store.w-t-c.web-republic.de

Quite naturally, without consciously planning but acknowledging His will, there was another LL released - THY DARKENED SHADE´s Liber Lvcifer I, and it felt like a brother album to our own LL. The same focus on the more sophisticated side of Black Metal is present in both works, while at the same time, diabolical doxology forged into sonics proved both releases stem from the same source and point to the same aim. We submit to this and there is a very limited double tape box available, wraped in glorious gold to praise the grandeur of the devil. Exclusive ABIGOR & TDS patches are added for those of you who want to show your colour. We take this chance to thank Mr. Ben Zodiazepin for his ongoing layout support.
2. Kingdom Of Darkness on 7"
NUCLEAR WAR NOW will be printing Norway´s IMHOTEP magazine for the new world, and we have taken the chance to re-record the most important ABIGOR hymn, Kingdom Of Darkness. We asked Tharen (back then called Rune), who already did the 1993 demo version, to contribute the vocals. But not performing like he does on the excellent new AMESTIGON album, rather bringing back the atmosphere of the original. This turned out excellent and won´t be anything like the useless "modernized" re-recordings but a true glimpse into the past. Our aim was to flare the original flame of the old days, as statement concerning the present BM scene, somehow disoriented in parts, lacking the ancient extremism and danger. Kingdom Of Darkness was reckless and uncompromising, just as Black Metal has to be. To underline this, Mr. Unhold has contributed passionate screams of torture and of victory.
https://luzifer.bandcamp.com/track/kingdom-of-darkness-2016-excerpt
3. Quintessence on vinyl
AVANTGARDE MUSIC will send the vinyl version of Quintessence to press in the coming weeks, which we had in mind for quiet a long time and now feels right before the next steps into the future are made. The limited LP version will still represent the rougher side of BM, not at least considering the source (the story of the 2011 2xCD is known by now) but more dynamic in sound than the CD version - and like the A5 release it will include ABIGOR´s early demos, with lux devicta est surely being one of our most important recordings.
4. new album on AVANTGARDE 2016
Right after the recording of the multi-layered Leytmotif Luzifer, the three of us (PK, TT and Silenius) discussed the need for a rougher, riff-oriented album with longer parts and less guitar layers. Something that focuses on a kind of ugly and distorted but also melodic side and doesn´t try to bend the borders of sophistication at all costs. We wouldn´t exactly call it "oldschool", but certainly getting rid of the constant urge to step beyond the past with every new album.
Complex and dissonant Black Metal these days isn´t mastered by a few spearheads anymore, any demo level band spreads out into complex, often harmonically "out there" fields - and more than often not with the required art and craft for such musical style. As listeners, these days we find hundreds of second rate versions of mid to late 00s Deathspell Omega or furious Antaeus ´blood libels´ style, and there surely are a lot of retro / pseudo-oldschool albums out there. But where are the furious milestones like Nattens Madrigal or Apokalypsens Ängel? Works of profound songwriting and outstanding quality that sonically accompany Belial´s army storming towards the heavens, or tell of the fundamental evil in man? Also lyrically - all philosophy, theology and magick aside, few works are out there that paint pictures in the listener´s head anymore. Albums which are still based on the satanic profoundness that is rightfully demanded these days but also do the term ´poetry´ justice? Many of us musicians in deed are magicians, priests, servants, soldiers - but the devil´s poets is what we need to be on the next album, to be released by Avantgarde Music by the end of this year.
5. And then...
...watch out for the next issue of The Sinister Flame, with whom we lead a conversation that was second to none.
We have a high quality LP version of Time Is The Sulphur In The Veins Of The Saint in mind, correcting a few visual issues that the original split with Blacklodge lacked in print.
And once we find a solution to the ongoing discussion with Napalm about our old albums, these will be made available on CD again.
We started bouncing back and forth ideas with Mr. Joseph Olynyk of Nigrum Serpentis for the first and only official ABIGOR backpatch.
And one final Tshirt reminiscent of our early days will see the darkness of the night this year, too.
Last but not least, our joint work with MORTUUS, NIGHTBRINGER and THY DARKENED SHADE will be available before the eternal summer´s beams will burn your flesh again - but this will be revealed seperately soon, watch this space.
August 2015
---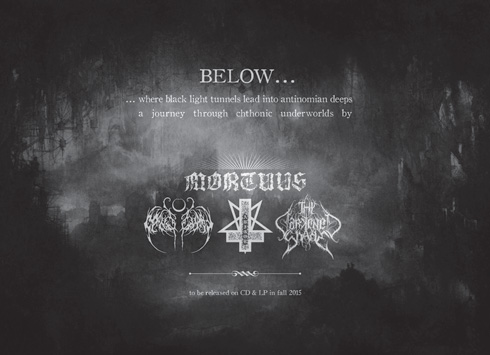 June 2015
---
Before we nun ourselves to focus on finishing the upcoming joint work with three highly esteemed Swedish, Greek and American entities, further on the next full length as well as some long overdue re-releases, there are two last eruptions closing another chapter in our book:
1. Norwegian IMHOTEP, which accompanied ABIGOR throughout the many years, will dedicate its printed issue 11 to ABIGOR and MAYHEM exclusively, and will offer a hugely extensive collection of conversations led at various - very different - points in this group´s history. Whoever managed to grab his "Waters Of Ain" issue knows Mr. Kristensen is a man of the ´all or nothing´ principle. Such uncompromising mindset is reflected splendidly in the zine and is truly rare these days. Therefore, in this light, his dedication is even more admirable and deserves full support:
https://www.youtube.com/watch?v=csT_ef2pUxI
2. And the final conversation is currently being led with THE SINISTER FLAME - true to the magazine´s contentual orientation it goes straight to the spiritual essence, and is something out of the ordinary, not at least due to the individuals acting behind this well respected publication. The previous issue is a highly rewarding read and still available:
www.thesinisterflame.com/zinenews.htm
To sum up the last year and our various appearances:
"Leytmotif Luzifer" has been received splendidly even in the ´bigger monthly glossy magazines´ - to our great surprise, after we made clear upfront there will be no ad-for-interview or ad-for-positive-review exchange deal with us,
like usual these days.
AVANTGARDE MUSIC asked us how far reaching promotion should go for the album, and we consciously decided not to chum up with the major press and therefore see how honest reactions would be like.
It is no secret we are fed up with the predictable media business of today and how totally same-ish the mainstream press has become, all following the roughly five ´Metal major labels´, and what their PR department - and with it the advertisement budget - dictates the editors. Yet many magazines proved there is at least a rest of independence remaining, and there were honest features covering the album. Sometimes, radical art seems to overcome even the most grinding ´daily-Metal-business´ mill, and we appreciate the enthusiasm and the fire that´s still present in a few "professional writers".
Nevertheless, ABIGOR is a proudly idependent and forever underground entity, and there is no better way than closing the cycle with these two publications before we draw back into darkness for a while.
May 2015
---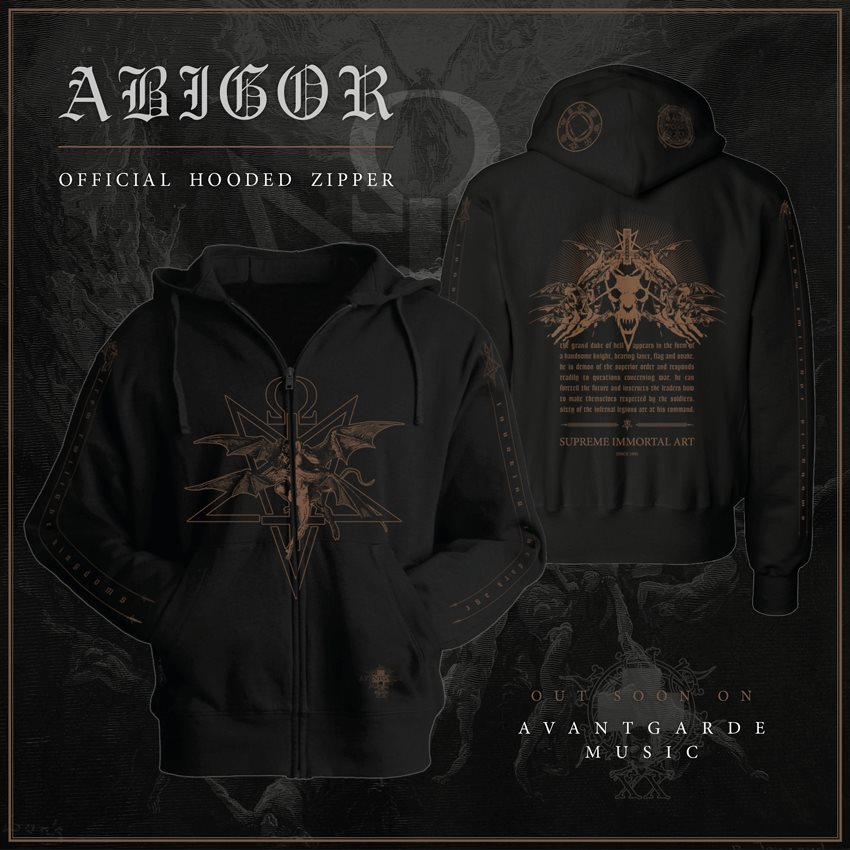 THE DEVILS UNIFORM
Not playing live and concentrating on our musical works rather than promoting them, we rarely are motivated to release merchandise.
Yet AVANTGARDE MUSIC´s XX anniversary series made us taking the chance - to come up with something representing our history.
This item will be LIMITED TO THE 7 DAY PREORDER NUMBER (none available after 7th june!) and CERTIFIED WITH A HANDNUMBERED TAG - and by that, personalized and clearly distinguished from those cheap bootleg items surfacing every now and then.

For any further ordering details:

www.facebook.com/notes/avantgarde-music/abigor-releases-hooded-zipper-for-avantgarde-music-xx/10152763103067260
March 2015
---

6 LP BOX RELEASED
We finally could present you photos of the now-released vinyl box on Soulseller Records, and we do this more than proudly, it turned out truly monumental.
Released in an edition of 1000 - half the quantity of the Moonblood box and third of the Ulver one - and made of quality materials and fine print, still we refuse to blow the ´limited deluxe edition´ PR-horn, like it is done on a disgustingly regular basis even in the so called ´underground´ these days.
At the very moment, Soulseller does not accept new orders - the remaining stock first has to be checked, and the rest will be sold by the end of the coming week. but our black sonic plague should be properly spread out there amongst mailorders like sound-cave.com or store.w-t-c.web-republic.de and others.
If some consider the price a bit heavy: the outcome of this historical compendium is worth the hell lots of work put into it, and worth the money spent to realise it. Considering SSR had to pay Napalm licenses, and as said, no compromises were made in manufacturing it, no one earns much with this release, except the resellers on discogs in a few years.
As you know, these 6 works weren´t released on vinyl in the 90s. We have therefore made the attempt to create 100% ´original´ vinyl versions and achieved this through thoroughness in detail.
Like the 90s CDs, the visual presentation was made from the original source materials (from photos down to the smallest image snippets), with all correct fonts and layout of the times.
The result succeeded to maintain ´the real 90s feel´. This is how it would have looked if released 1994 to 1998. Whatever imperfections and even embarrassments have been done by us back then, we did not hide but put it as huge middlefinger in the face of those who sniff at certain aspects but weren´t there, or who didn´t dare to explore the various fields and couldn´t fail therefore - like back then, we have no respect for those who always play it safe.
Finally, these individuals helped to realise this piece of history,
we hereby raise the chalice to:
Ben for his many hours of research to provide all the original text fonts, Iannis A. M. and Hendrik M. for the photos used on "Verwüstung" and "Apokalypse", Klaus P. for the negative-scans, Thomas H. for the old Napalm ad, Spica and Unhold for hinting us to errors in the text.
Now feast on the reckless eruptions of a once-young artform, the spirit of the early 90s will always be part of this cult - the black Metal of Satan. "The next thousand years are ours!"
January 2015
---

ABIGOR - 6 vinyl-box
news & pre-sale info:

THIS IS OUR HISTORY

Compared to Black Metal´s greatly evolved standards of today,
we were lousy musicians 20 years ago, but our hearts were reckless
and dedicated to darkness - uncompromisingly.
It is up to you to decide if we captured this intense atmosphere well, if you can sense the energy of those early days - the days when all gates to hell were flung wide open by the extremist mindset of people who were prepared to sacrifice literally everything for their believes, and some even died for it.
These are our gospels written between 1992 - 1997, roughly butchered
to 24-track tape at Tonstudio Hörnix, always in a few days
and on the spur of the moment.

These are preview cuts taken from the vinyl master
for the upcoming 6 LP box on Soulseller Records.
And a tunnel back into very special times.

http://www.soulsellerrecords.com/pre-order-abigor-6lp-slipcase-box-set
July 2014
---



The deed is done, ye all, spread the word…

ABIGOR - Leytmotif Luzifer
Formats A5 digiCD (AV666CD), Gatefold LP (AV666LP)

A5 digiCD already printed, and will be delivered in the coming week.
LP delayed by the pressing plant, but delivered on 18th July 2014.
The special packages (CD & LP inkl. A5 artprint) are already sold out, but will be also shipped at the 18th of July 2014.

Infos & orders:
www.avantgardemusic.com | info@avantgardemusic.com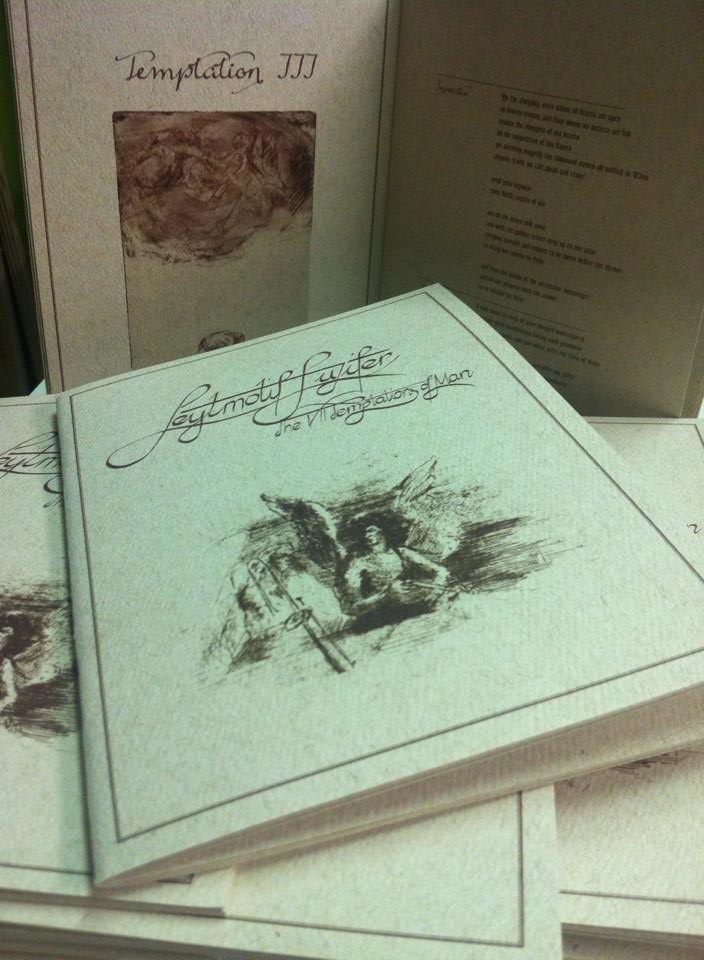 May 2014
---
Leytmotif Luzifer, the 7 temptations of man

Is an album written in liturgic form dedicated to the 3rd path to the mysteries of Satan, namely, pure and uncompromising worship, and the pitfalls man has to navigate through, the temptations.

Musically, no synthetic elements have been used, the guitars are completely free of any effects, neither reverb nor any special effects edit were allowed to touch the string intruments on this album. for vocals only reverb and delay has been used, no pitch or chorus or any other effect stained the purity and directness.

Soon to be released on AVANTGARDE MUSIC as A5 digiCD and black vinyl (gatefold, 16 page A5 booklet). Instead of any gimmicks, posters, vinylcolours, we have worked out a special LP master and plan to let SST Brüggemann cut the lacquer before sending it to the pressing plant, to have the ultimate sound quality for both formats.

http://luzifer.bandcamp.com/track/leytmotif-luzifer-first-insight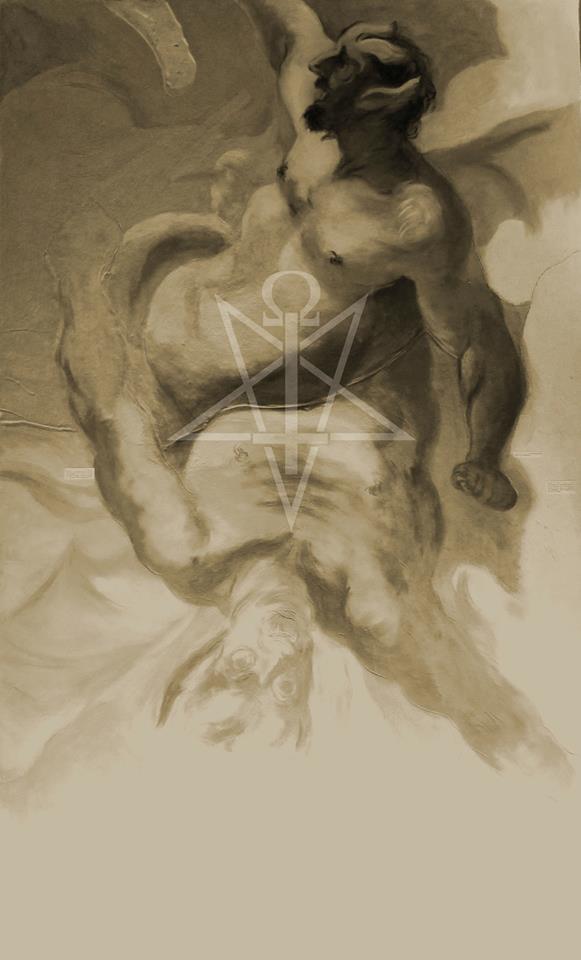 October 2013
---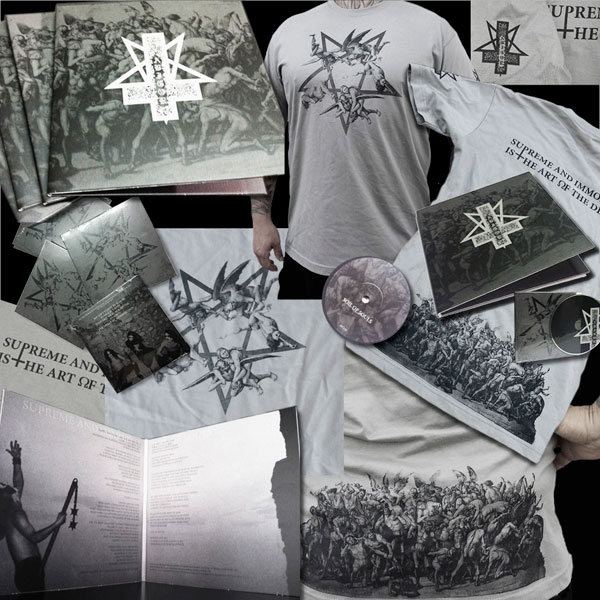 SUPREME AND IMMORTAL IS THE ART OF THE DEVIL
Straight from the printer's cave, we received the first rough photographs of the package that will be released on AVANTGARDE MUSIC this week:
Supreme And Immortal limited and numbered gatefold 7"
featuring Soil Of Souls and Supreme And Immortal
(from an unmixed 1997 tape, new vocals by Silenius)
first 200 include a CD featuring Silenius´ first rehearsal May 1994
grey T-Shirt Supreme And Immortal (front & back print, logo on sleeve)
The 7" or shirt could be ordered individually thereafter, but is conceived
and priced as package.
Originally Supreme And Immortal was intended to mark ABIGOR's 20th year of coating the earthly soil with Satanic Black Metal, yet facing the many disgusting ´anniversary´ releases and concerts, we prefer to just take it for what it is, an old original rough 1997 ABIGOR recording, where Silenius has breathed (or should we say roared) new life and sense into the reworked lyrics of the original hymns.
We are proud of our roots that reach back to the ancient days of Black Metal, and carry the torch, set ablaze by the black flame in 1993, further with Leytmotif Lucifer soon.

http://soundcloud.com/abigor-2/supreme-and-immortal-is-the
September 2013
---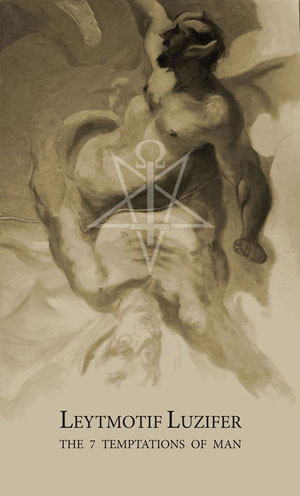 We hereby report the completion of the recording sessions to the album and present you instrumental previews of:
ABIGOR
Leytmotif Luzifer
the 7 temptations of man
http://soundcloud.com/abigor-2/abigor-instrumental-previews

True to the ABIGOR tradition it will again be very different to the previous releases. Leytmotif Luzifer will not contain any synthetic element, the guitars and bass left completely dry and untouched. No effect edits or effects (except EQ) at all were used for strings, as the 7 songs of the album demanded this direct and natural sonic form.
ABIGOR have always changed sonically within the Satanic Black Metal movement, and using a rougher sound free of any synthetics brought forth recordings like Apokalypse in the past, yet never before has ABIGOR been as strict as this time.
Soon further insight concerning lyrical theme, vocals and the accompanying visual realization will be given.
CD & LP version will be released by AVANTGARDE MUSIC.
June 2013
---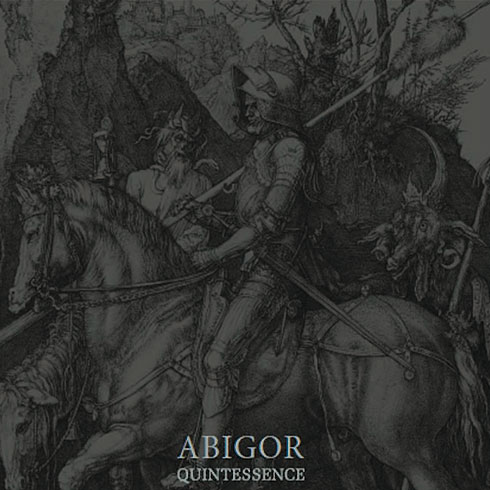 May 2013
---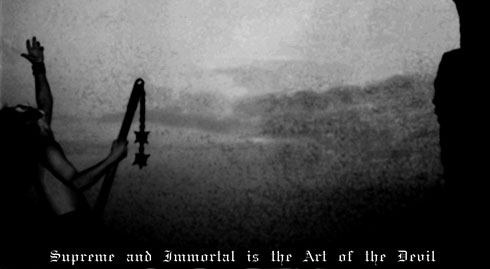 We are proud to announce an upcoming special release to mark ABIGOR's 20th year of releasing Satanic Black Metal Art.
On this occasion, for the first time since 1998, Silenius contributes the vocals. AVANTGARDE MUSIC will release a handnumbered edition of 500 gatefold cover 7"s. 200 of these include an additional CD comprising of the first ever rehearsal with Silenius.
This release wasn't artificially unearthed to 'celebrate an anniversary', like others do these days, but the original material has demanded the form and urged to be released in the past few years. Now all things conspire to end a cycle and let a new one begin, but more to be revealed soon.
Back in 1997 ABIGOR recorded ´Supreme Immortal Art´. Ever changing shape, as each release requires a different aesthetic form, the album was planned to turn out as 'majestic´ as possible, contrasting the eerie 'Opus IV´ and the thoroughly traditional 'Apokalypse´.
But sadly the powerful basic material was buried under a thick layer of synthetic orchestration and a devastating mix and master, while Silenius´ invocations were loaded with redundant effects.
Now this 7" presents the work as it was intended originally, and is based on the 1997 guitar and drum recordings. Silenius layed down new vocals that exceed the performance of old by far, musical arrangements and lyrics were reworked and sharpened. SOIL OF SOULS on side A, SUPREME AND IMMORTAL (IS THE ART OF THE DEVIL) on side B summarize ABIGOR's traditional 90s recordings and the uncompromising standard of their
present work.
For the ones that worship the demon of war since 1993, and the ones who need to be taught a lesson in Black Metal history, the first 200 copies hold a CD with Silenius´ first ever rehearsal for the debut album 'Verwüstung/Invoke The Dark Age´. 5 songs of raw 4tracker recordings, the ugly and primitive side of Black Metal, resonating from a time long gone, before bad digital computer recodings were the norm to be called 'traditional´ or 'cult´, but are just lame copies that do not understand why or how early Black Metal was created back in the days.
A circle has closed, and ABIGOR are currently preparing a statement that will cover their past 20 years and go back even longer in time, their present and the state of the scene including magazines, the internet and disgusting trends, something which will agitate
and upset.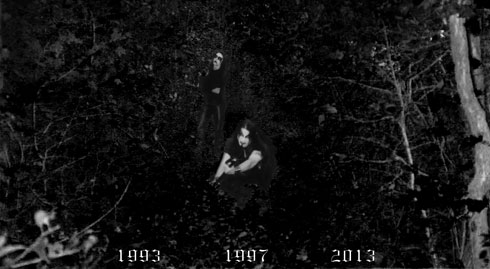 May 2012
---
ABIGOR patch "Quintessence" is available through SEANCE RECORDS
(www.seancerecords.com/main.html).
ABIGOR - QUINTESSENCE PATCH - AVAILABLE NOW!
This patch is strictly limited and exclusive to Séance Records.
Measuring approx 10 x 8cm (4" x 3") this deluxe high quality with
superior detail & metallic highlight. 100% official.
An A2 poster from the re-released Nachthymnen album will be availabe soon through the FULLMOONSHOP (http://fullmoonshop.bigcartel.com).
January 2012
---
ABIGOR 'Quintessence' EAL066
limited to 950 copies
hardcover A5 format, 2 x CD
CD1 'Channelling The Quintessence Of Satan' v. 2011
CD2 'The Satanic Tapes' 1993 - 1994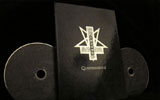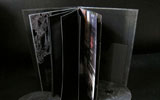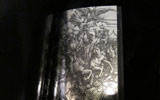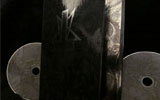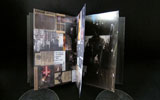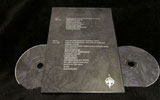 End All Life Productions info:
"We are extremely proud to announce one of our most ambitious releases thus far, containing recordings that shaped the history of Black Metal as a genre (namely the infamous demos from 1993 and 1994) and a new interpretation of "Channelling the Quintessence of Satan", revisited over a decade later. The transfiguration is of radical nature while preserving, actually enhancing, the original spirit. It is something to experience and not to describe but let's make a vain attempt and write that it's Janus like, as ancient as it is
contemporary, as TRADITIONAL as it is groundbreaking.
In other words, Black Metal in all its glory."

http://abigor.e-a-l.com